PDF PANEL
PDF (Polyethylene Double Frame) panel made of HDPE(High-Density Polyethylene) do not have corrosion and have insulation property like the double frame panels with lasting material properties. The panel is highly adaptable to temperature change (-40C ~ 100C) and is safe from producing harmful substances due to material corrosion. The panel is a very economical technical alternative product due to its easy assemble on site and a short construction period.

Inflow of raw water, baffle wall, Cohesive point GRP(Paddle), Cohesive point(Baffle wall), Sedimentation site (baffle wall), Sedimentation site(partition), Water supply, Baffle wall PDF wall panels overcome the shortcomings of conventional concrete walls with low processing efficiency, inefficient structure and complicated construction, and durability problems due to corrosion, deformation and non-economic problems. PDF wall panels provide appropriate construction measures for old and new water and sewage treatment facilities to improve and enhance efficiencies.
Applied technology
01.
PDF On-site installation technology for baffle wall(Construction New Technology No. 306)
02.
PDF On-site installation technology of the baffle wall (Construction new technology No. 397)
03.
Prefabricated wall structure for water treatment facilities (Patent No. 10-0694888)
04.
Mole drain unit for Sedimentation Site Baffle Walls(Patent No. 10-0379896)
05.
Baffle wall for water treatment installation method
Features
01.
PDF rectifying wall: 20% more sedimentation efficiency and 30% more turbidity improvement
02.
PDF baffle wall: easy to reach CT value and improve the chemical mixing effect of the clean water reservoir and distributing reservoir
03.
Reduced construction time by assembling and installing factory site
04.
Material (polyethylene) does not change or corrode
05.
Easy maintenance, installation and dismantling
06.
No change in quality even after long-term use
07.
Easy to repair and reinforce, can be recycled
08.
Chlorine-resistant and environment-friendly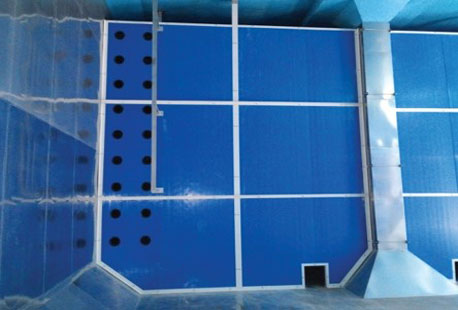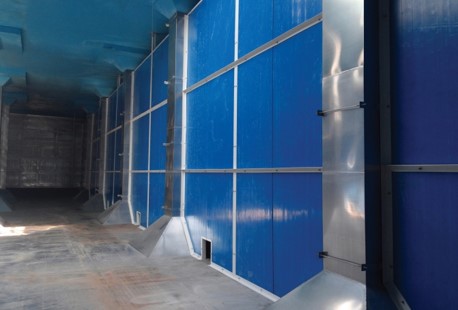 baffle wall
A clean and sturdy baffle wall using PDF (Polyethylene Double Frame) panel made from HDPE (High-Density Polyethylene) raw materials. To increase the contact time among the proper disinfection (CT) of the clean water reservoir, the baffle walls are installed to shorten the construction time and do not produce any harmful substances to the environment.
General baffle wall flow

G.T.R. Baffle wall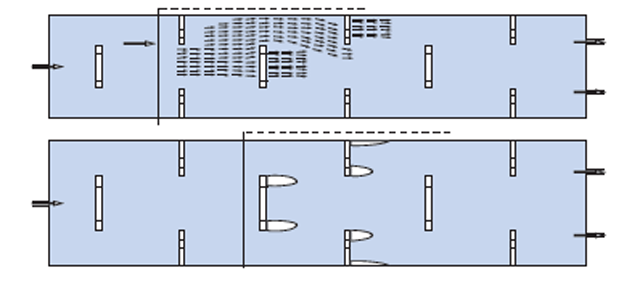 Concept of baffle wall installation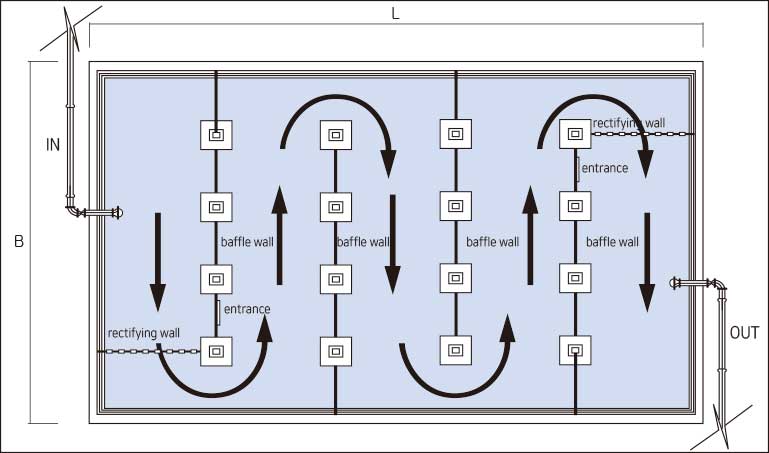 Vertical Baffle
Band Fixed Baffle Wall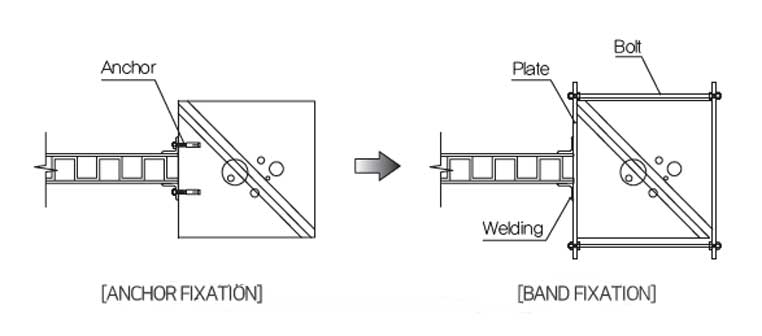 When installing the baffle work, plate and bolt are used instead of anchors. The method shows a new concept of installing baffle walls and preventing the damages to the structures and waterproofing layers.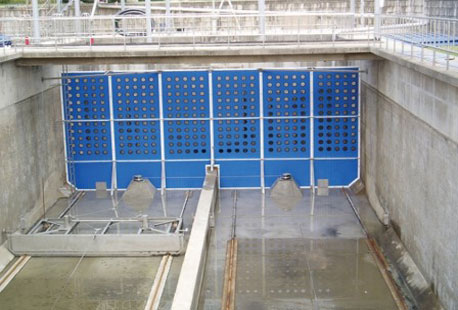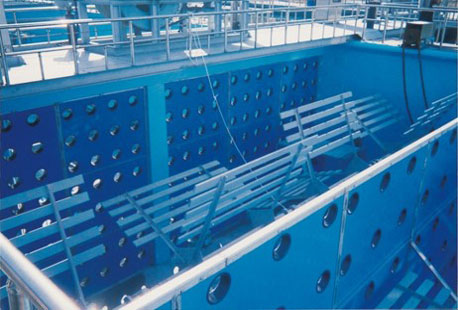 rectifying wall
By identifying the flow characteristics of the Pilot Plant experiment of the water treatment with PDF Panel and the flow when flowing through rectifying, sediment removal efficiency can be reviewed by comparing various rectifying and opening rate changes. The baffle wall method is an excellent new concept that has great baffle effects, harmless to human, excellent constructibility and economic efficiency, and great advantages in environmental aspects.
Design of downward-contracted type rectifying

Comparison of turbidity and water temperature distribution in sedimentation basin


Sludge settling analysis

The distance after the rectifying wall
Sedimentation amount of Sludge(cm)
Circular rectifying (Type A)
Upward and downward
contracted rectifying (Type B)
Downward-contracted
rectifying (Type C)
0
9.1
8.7
11.0
120
5.2
4.8
6.5
Analysis Result
ㆍThe top of the Circular baffle and U/D contracted baffle maintained higher turbidity than low
ㆍDonward-contracted baffle showed a great turbidity removal rate for good baffle effect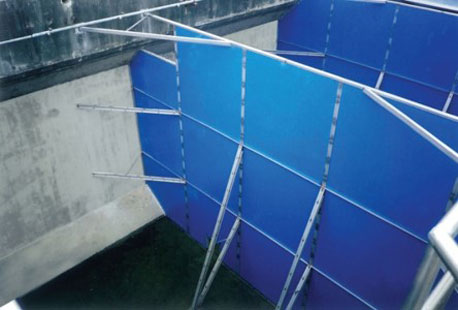 Barrier
A method using PDF Panel to install unit division barrier for performance improvement construction (advanced processing facility) in sewage processing plant (waste water processing). The construction method saves great amount of construction period compared to conventional concrete construction methods and has no corrosion factors which immensely improves durability.
---
Barrier design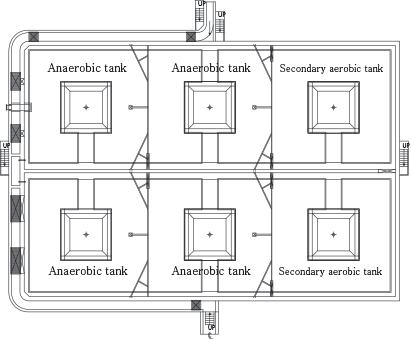 Barrier dissected diagram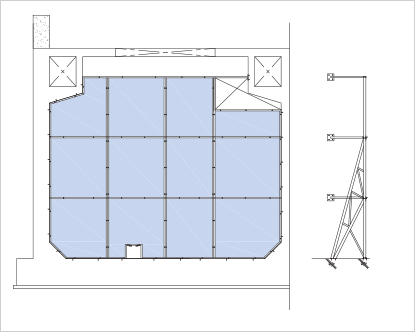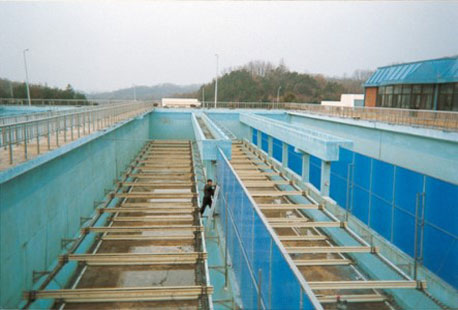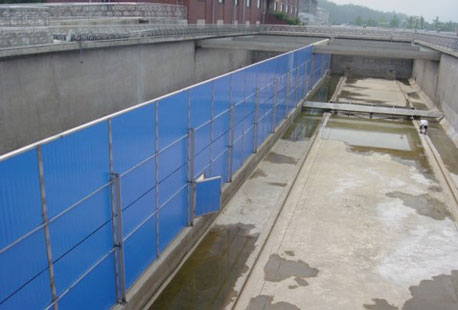 Bulkhead
Removes density current from settling tank to inhibit the rise in float. Great construction method especially for case of great flow change, turbidity 38%, high-turbidity 22%(sedimentation turbidity)
---
Concept design of bulkhead installation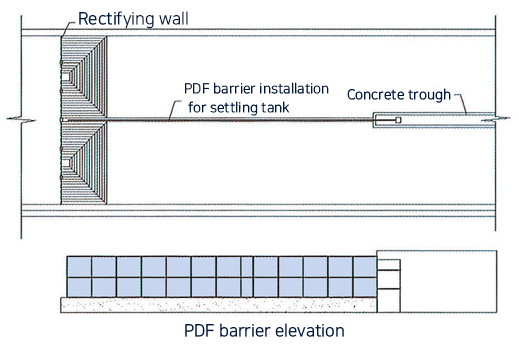 For - Winter season all water-temperature, low turbidity
| | | | |
| --- | --- | --- | --- |
| Classification | baffle wall installation | baffle wall uninstalled | remark |
| avg. turbidity(NTU) | 0.45 | 0.73 | 38.3% excellent |
| max. turbidity(NTU) | 0.94 | 1.21 | - |
| min. turbidity(NTU) | 0.18 | 0.10 | - |
summer season high turbidity
| | | | |
| --- | --- | --- | --- |
| Classification | baffle wall installation | baffle wall uninstalled | remark |
| avg. turbidity(NTU) | 1.42 | 1.84 | 22.8% excellent |
| max. turbidity(NTU) | 2.47 | 3.16 | - |
| min. turbidity(NTU) | 0.48 | 0.65 | - |
Sedimented sludge accumulation dispersion research result